From below ground to roof cap, Graham is a company that does it all
By Kelly Gray
Not all construction companies are created equal. In construction and project management, the smart money goes with a firm that can manage and self-perform all challenges from below ground to rooftop. For nearly a century, Calgary-based Graham has been such a player. Indeed, with revenues exceeding $2 bil-lion, Graham has become an industry leader by earning its place at the top as a complete one-stop-shop where clients get the benefit of substantial expertise and experience that extends from commercial projects to industrial sites to massive infrastructure under-takings.
It all comes down to a simple equa-tion, says construction manager, Earthworks, Underground & Piling, Andrew Sneddon.
"At Graham, it's all about safety + quality = productivity. We have been doing just this for decades, and it has made us a consistent performer when it comes to jobs that are on time, on budget and on the mark," he said, adding that Graham is one of very few piling companies to perform in-house competency training and testing.
In fact, Graham has made safety, innovation and continuous improve-ment the foundation of the company since the first day back in 1926. Over the years, they have consistently added to their knowledge base, thanks to an employee skillset that is predicated on passion for the job and dedication to quality.
"We utilize innovative systems such as Graham's Toolbox, an award-winning electronic information system that enables the diversity of specialized software used in construc-tion – from project management to procurement to payroll – to become an integrated project delivery system providing comprehensive information in real time to all participants," said Sneddon. "Through tools such as these, we've been able to deliver integrated construction solutions that generate extraordinary project outcomes."
"We have been doing just this for decades, and it has made us a consistent performer when it comes to jobs that are on time, on budget and on the mark."
- Andrew Sneddon, Construction Manager, Earthworks, Underground & Piling Division, Graham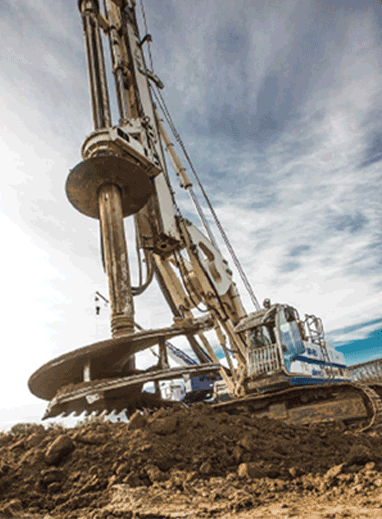 Broad base of capabilities
From the outset, Graham established itself as leader in construction. Today, the company operates nine offices in Canada and four facilities in the U.S. Present in all major sectors of the building trade, Graham does it all.
For example, for about 90 years Graham has undertaken thousands of commercial projects throughout North America. Services include pre-construction, general contracting, construction management, design-build and green buildings. According to Sneddon, Graham teams have worked to complete projects under public-private partnerships (P3s) and through independent project delivery (IPD), a process that collaboratively harnesses the talents and insights of all partici-pants to reduce waste and optimize efficiency through all phases of design, fabrication and construction.
Graham also offers a wide range of mechanical services. Today, the company's skills and over 30 years of experience have made Graham the contractor of choice for a wide base of industrial clients throughout Alberta, Saskatchewan and Manitoba. Look to Graham for services that include millwork, electrical, plant turnover, shutdown and maintenance, as well as pipe fabrication and modular assembly.
Working to complete the pack-age, Graham formed the Industrial Buildings Group back in the late 1980s. The idea was to offer a total self-per-form service that would provide clients with building solutions from adminis-tration and control structures, to wash bays, heavy truck shops and process structures.
"Design-build is a key component to our program and we have well established partnerships with some of the industry's top architects and engineers," he said. The group has been successfully using batch plants on projects for over 50 years. Presently, Graham owns and operates four batch plants and nine mixing trucks and silos. Graham is also known for cast-in-place, pre-cast foundations and flat work.
When it comes to civil and infrastruc-ture service offerings, Graham is again well positioned as a one-stop-shop. Here, expertise includes a total picture sup-port with services such as formwork and scaffolding, civil and underground installation, concrete batching and placing, pre-cast concrete and steel erection. Capabilities extend beyond the construction phase. Sneddon reports that these include design-build mandates as well as operations and maintenance required under P3 deliv-ery methods.
Earthworks and underground
Graham's expertise extends below grade with their earthworks and underground division. This group not only utilizes the skill of highly trained industry pros, but also takes on jobs with a growing equipment fleet valued in excess of $400 million. One of the largest fleets in the industry, Graham's inventory is comprised of the latest models and includes the heaviest classes of earthmoving and hauling equipment. This means projects can start quickly with the right machines available. On the site, it's a trained Graham employee working the levers, a fact that adds to the company's ability to control and complete jobs from the ground up. More, Graham's equipment is strategically placed, an aspect that works to ensure rapid and cost-effective deployment to any loca-tion. Look to this department for site preparation (including excavating and grading), underground pipe instal-lation, mass excavation, haul-road construction and operation as well as mining and heavy construction.
Graham's Piling Group has over 25 years' experience in foundation instal-lation for various projects in North America and across the globe. Graham began self-performing piling services in 2010. Over the last five years, the group has grown to generate revenues of over $30 million. Graham contin-ues this commitment by growing and further developing expertise by self-performing piling on large-scale, multi-disciplinary projects and exe-cuting stand-alone piling projects for industrial clients. Expertise includes a broad slate of capability, such as value engineering, continuous flight auger (CFA) piles, drilled caissons, coffer-dams, drilled piles, driven pipe piles, driven H-beam, helical and sheet piles, as well as shoring and retention walls and pile load testing.
It's this kind of capability that attracted the attention of the North West Redwater Partnership, a group tasked with creating a 150,000 barrel per day bitumen refinery outside Edmonton. Graham has recently completed work on site where they installed a total of 3,349 piles.
"We averaged seven to nine piles per rig with daily peaks around 20 piles," said Sneddon, who adds that crews were on the job for 420 days, result-ing in more than 39,000 man-hours on location. Even with this heavy presence on site, Graham reports only one first aid incident, despite working condi-tions that were congested and tricky.
"This is all part of day's work for us. The Graham culture, especially safety, cascades down into the Piling Division. Our integrated process is one that seeks to enhance safety and maintain performance at all levels," he said. "We handle it all and we stand behind what we do. From piles to roof cap, our expe-rience, integration and commitment to continuous improvement takes the bumps out of any project."