New TEI HCC-10 pipe handling excavator attachment improves jobsite safety
TEI Rock Drills, Inc. introduced the advanced HCC-10 hydraulic casing safety handler in Las Vegas at CONEXPO in March. The Montrose, Colo. drilling equipment manufacturer designed the HCC-10 excavator attachment to exceed new safety requirements regarding the handling of drill pipes and casings in field applications. This innovative pipe handler attaches easily and quickly to the arm and auxiliary hydraulics on most eight-ton excavators.
The TEI HCC-10 hydraulic casing safety handler can grasp a length of drill pipe and casing together from a rack and fully position them vertically or horizontally over the drill rig. The drill operator can rely on this unique TEI equipment to accurately position the pipe and casing as the tubular material threads into the drill string. The HCC-10 eliminates the possibility of serious jobsite injury caused by hand-turning the drill string when adding pipe and casing.
About TEI Rock Drills, Inc.
The TEI headquarters and manufacturing facility are located in Montrose, Colo. TEI rock drills are hard at work in solid and hollow bar soil nailing, micropile, mining and tunneling jobsites worldwide. Our TEI team members take great pride in building real American-made quality into every TEI rock drill and rock drill component.
Ledcor donates $250,000 to innovative safety program at University of Alberta
The Ledcor Group of Companies is proud to donate $250,000 to the University of Alberta's new David and Joan Lynch School of Engineering Safety and Risk Management (ESRM). As the first of its kind in Canada, the university's new program integrates safety and risk management into the curriculum of all its engineering students.
Tom Lassu, president of Ledcor Industries Inc. and University of Alberta Civil Engineering alumni ('92 B.Sc.), has been passionate and influential in setting new safety standards for the entire industry and applauds this type of innovation.
"Engineering students are the future leaders of our industry, and I am proud to see the University of Alberta take the initiative to raise the bar on safety and risk education," said Lassu. "For Ledcor, our safety commitments are part of our corporate culture, from our offices to our project sites. We are continually seeking and supporting advancements in safety."
The donation from Ledcor will help fund an endowment to sustain and increase the impact of the Lynch School. Earnings will help recruit more teachers, support research, develop further ESRM courses and programs and fund student-led projects. ESRM will be offered to all third- and fourth-year engineering students, and by 2018, every University of Alberta engineering graduate will have taken an ESRM course.
Ledcor places the health and safety of their employees at the core of their corporate values. Their award-winning safety programs aim to go above and beyond industry standards, ensuring that all employees and contractors go home safe at the end of every workday.
APE Drilling takes on the Big Apple with its geo-exchange system
American Piledriving Equipment (APE) recently teamed up with Lita Construction to install twenty-two 7.625-inch diameter pile at a 40-foot depth to support a 19-foot by six-inch cantilevered retaining wall. This wall was constructed in efforts to expand the usable square footage of a residential lot overlooking the East River.
APE, based in Kent, Wash., is a leader in research and development, production and sales of foundation construction equipment. APE produces the world's largest pile drivers, and has offices in every corner of the United States, Asia and has distribution worldwide. APE has a unique way of doing business in the deep foundation construction industry. They devise, manufacture, load and ship their own products. APE builds innovative foundations for buildings, bridges, utility poles and structures of all sizes with a focus on modern and green technology. They specialize in producing their own pile material and installation tools, patented steel piles, grouted piles and micropiles, excavator-mounted multi-purpose HD Drivers, as well as geo-exchange building heating and cooling systems.
"In the spirit of ingenuity, APE has always had a sound focus on ways to not only make our products better, but also to increase the function in which our products can be used in the industry," said Matt Fenwick, operations manager for APE Drilling. "We feel that introducing our geo-exchange system to our HD piles being installed on projects was a way to do just that. We may not have discovered geothermal technology, but we will be damned if can't make it better."
Lita Construction, Inc., based in Jamaica, N.Y., focuses their main line of business on concrete construction, which includes reinforced concrete, concrete sidewalks, floors and flats as well as foundation contractors and concrete and block.
All 22 piles in this project were designed to incorporate APE's geo-exchange system. This system creates a closed loop that can be run in series to exchange the water temperature circulating through the loop with ground temperature for both the heating and cooling needs of the home.
Load testing was preformed proving a 280 kip ultimate load was achieved on the piles and a geo-thermal strain test was carried out to qualify that the design minimum of 110 BTUs per foot was met. Post testing results not only achieved 110 BTUs, but exceeded expectation by over 90 BTUs per foot in each of the piling.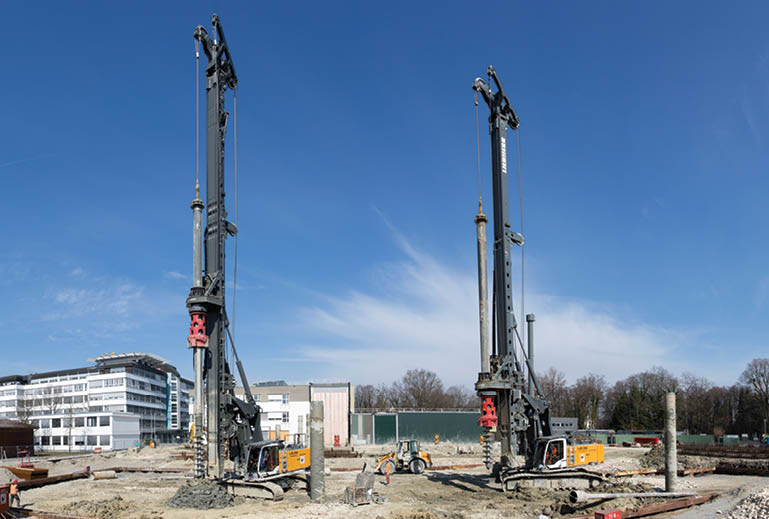 Liebherr drilling rigs deployed for plant expansion at Airbus Defence and Space
Two Liebherr drilling rigs, an LB 28-320 and an LB 36-410, are being used for deep foundation work as part of the Airbus Defence and Space plant extension in Immenstaad am Bodensee, Germany. The machines are equipped with the rotary drives BAT 320 and BAT 410.
The company Kurt Motz Baubetriebsgesellschaft GmbH & Co. KG is carrying out foundation work for a new production building for the "Integrated Technology Centre" (ITC) at the premises of Airbus Defence and Space, a division of the Airbus Group. The two Liebherr rigs are in operation for the contracted deep foundation contractor in Immendstaad. The machines are part of a package of six new Liebherr LB devices for the company, Kurt Motz. The official handover took place directly on the Airbus jobsite.
Using Kelly equipment, the machines are installing cased drilled piles for the foundations of the new building, which is an extension of the technology centre and measures approximately 70m by 60m. The single piles are 40m long and have diameters of 750 and 900mm.
Foundation work involves a total drilling length of 7,900m. A particular challenge is posed by the closeness to a nearby lake. In order to avoid groundwater and seawater, a sheet pile wall was erected using a Liebherr piling and drilling rig, type LRB 125.
Innovative rotary drives in operation
The Liebherr drilling rigs on site are equipped with rotary drives, types BAT 320 and BAT 410. The BAT series of rotary drives, developed by Liebherr, provides the necessary torque for a multitude of drilling applications. The automatic torque regulation and the continuous speed optimization react flexibly to different soil conditions. This ensures optimum drilling progress.
Economic and user-friendly drilling rigs
A decisive advantage of the LB 28-320 and LB 36-410 rigs is their smooth and precise control, which provides excellent positioning in all fields of application. The electro-hydraulic proportional control enables several movements to be carried out simultaneously and with precision.
The LB 28-320 has a robust leader, which easily absorbs both the rotary drive's torque of 320 kNm, as well as the 40-tonne push and pull force of the rope crowd system. This ensures especially quick work cycles. The parallel kinematics of the leader system allows for a large working radius as well as accurate and stable operation.
The LB 36-410 is the next largest model in the Liebherr series of drilling rigs and has a torque of 410 kNm. Significant advantages of this machine, which weighs 127 tonnes, are the easy transport and quick set-up times on the jobsite. Despite a large machine class, the upper carriage is compact and designed for a small swing radius. This allows for work to be carried out efficiently even in restricted spaces.
DFI and PFSF host successful conference in Melbourne, Australia
The inaugural conference on Piling and Ground Improvement Technology for the Modern Building and Infrastructure Sector in Melbourne, Australia was a resounding success. The two-day international event, March 21-22, 2017 at the Melbourne Convention and Exhibition Centre, was hosted by the Deep Foundations Institute (DFI) and the Piling and Foundation Specialists Federation (PFSF). More than 200 attendees participated in technical presentations, poster presentations, exhibits, networking events and a conference banquet.
"There was a tremendous energy and buzz throughout the entire conference," said Theresa Engler, executive director of DFI. "The interaction between the audience and the speakers was very dynamic and resulted in in-depth and valuable discussions on the design, construction and performance for piling and ground improvement techniques for building and infrastructure works."
"This was the first conference in Australasia that brought together practitioners from all of the disciplines involved in piling and foundation engineering," said Mark Johnson, executive director of PFSF. "The opportunity to interact with, and learn from, other professionals in the industry was incredibly useful to the attendees. We are definitely planning on organizing a second conference, tentatively scheduled for Sydney in 2019, and expect to see even more participation."
The event featured 28 technical presentations and 11 poster presentations. Keynote presentations included "Challenges in the Design and Construction of Deep Foundations for Transportation Infrastructure Projects," presented by DFI president Dan Brown, Ph.D., P.E., D.GE, of Dan Brown and Associates; "Geotechnical Design Considerations for Rock Socketed Piles," delivered by Chris Haberfield, Ph.D., principal geotechnical engineer of Golder Associates in Melbourne; "Designing Piles for Seismic Events," by Harry Poulos, Ph.D., P.E., consultant with the Coffey Group; and "Ground Improvement by Dynamic Replacement within Intertidal Mangrove Mud Environment Ichthys LNG, Darwin," by Philippe Vincent, managing director at Menard Oceania.
According to Kim Chan of GHD, the technical program featured "a good mix of technical and practical application papers, innovation and new products." Gerhard Zylowski of Bauer Foundations Australia adds that the presentations included "a wide range of current geotechnical techniques and actual applications."
Second Chance Line Restraint, LLC offers a safety solution
Tied-back lines can cause serious damage and injury. Oftentimes, bridge and foundation contractors use multiple hoisting lines for their cranes on the jobsite. This can potentially pose a problem when the crane is done doing multiple line work, such as pile driving. The operator will secure the lines that are no longer in use back to the superstructure of the crane to get them out of the way.
What can happen next is that as the operator of the crane moves on to normal hook work and then booms down, the tied-back line gets tighter at an unnoticeable pace as the boom tip moves away from the crane. If the operator doesn't remember to slack the tied-back lines, eventually they will get tight to the laces and can result in damage. More dangerous, as the tension increases, the weakest link – whether a chain or nylon used to tie off, or even the structure where the line is secured – is sacrificed and breaks at an extremely high breaking strength, which then shoots that line and whatever rigging is attached to it up to twice the length of the boom. This also occurs with cranes with high line pull strength, if the operator engages the wrong lever by mistake. Each situation endangers personnel, bystanders and equipment.
Second Chance Line Restraint, LLC offers a line tie-back system that will give the operator and nearby workers a warning; as the features of the strap are deployed, the stitching is heard breaking as well as the tightened line slaps against the boom as the strap reacts, leaving the last component of the strap containing the rigging from flight.
Visit www.secondchancelinerestraintllc.com to learn more.
Selix Equipment Inc. pleased with NHES performance
Selix Equipment Inc. was very pleased with the reception of Center Rock (CRI)'s new utility pole hole line cluster canister drilling system at the National Heavy Equipment Show (NHES), held in April in Toronto. Pole line contractors from across Canada were excited to discover a new, economical solution for drilling utility pole holes in any rock formation. Born from CRI's popular conventional LP drills, manufactured for the construction market, this new cluster canister solution from CRI is specially made for hole sizes of 18 inches, 20 inches, 22 inches and 22 inches, and offers 9.6 feet of standard drilling depth, or greater if requested.
With its low weight, ranging from 1,600 lbs to 2,365 lbs, this utility LP drill is designed to mount on derrick trucks or installs on any carriers, such as mini excavators, Bobcat skid steers or any other rotary head drilling system that uses a standard Hex drive.
This tool will enable any contractor to increase their production while reducing their operating costs.
The utility LP drill is a canister outfitted with four or five down-the-hole (DTH) hammers and bits engineered to efficiently achieve a perfect rock cut true to the bottom in any soil condition and hardness. Air is delivered to the tool from a cost-efficient, low-pressure compressor, working all DTH hammers simultaneously via CRI's custom air swivel. The results are always perfect hole dimensions and depths in minutes, compared to conventional augers, drill and blast systems, hydraulic hammers or other typical ways of drilling these holes. 
If you have news to be feature in News Pile. email Jill Harris at

This email address is being protected from spambots. You need JavaScript enabled to view it.

. Note: Not all submissions will ne published, and submissions may be edited for grammar and style consistency.