Backed by one of the country's premier construction and infrastructure development companies, Aecon Foundations is expanding its role in Canada's piling industry
By Mark Halsall
Aecon Foundations has been installing piles for almost 50 years. But it wasn't until 2013 that the Calgary-based company began to ramp up its deep foundation business in a really big way.
According to Lars Richter, vice-president of piling and foundations for Aecon Foundations, that's when the company made a strong commitment to boosting its presence in the piling and shoring systems sectors.
"Before that, Aecon did a limited amount of driven piles for bridge foundation projects and the like," he said.
As Richter notes, the summer of 2013 saw Aecon Foundations gain access to the wide array of internal foundation projects of its parent companies – projects that in previous years would have been largely sub-contracted out to external businesses.
Aecon Foundations is a division of Aecon Infrastructure, which in turn is part of the Aecon Group, one of Canada's largest and most diverse construction and infrastructure development companies.
Aecon and its predecessor companies have helped to construct such seminal Canadian landmarks as the CN Tower, the Vancouver Sky Train and the St. Lawrence Seaway. Over the years, they've also helped build hundreds of factories, offices, hotels, stores, power plants and mine sites as well as airports, roads, sewers and gas distribution networks.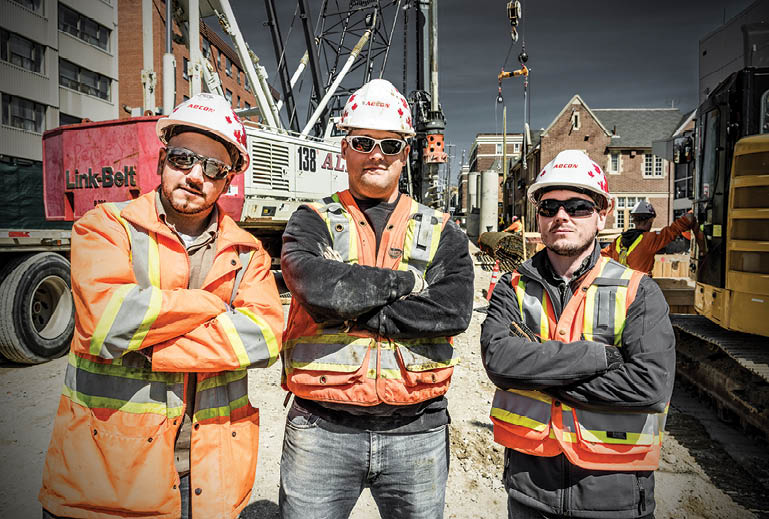 "Our main focus now is to serve the businesses of the Aecon Group but we are also operating on the external market," said Richter, who considers Aecon Foundation's corporate affiliations to be a competitive advantage. "We have a big 'mother ship,' and that also gives us the opportunity to use their processes and procedures."
The pivotal summer of 2013 also saw Aecon Foundations receive the necessary capital to purchase a brand new fleet of top-of-the-line equipment that includes drilling and pile driving rigs from industry leaders like Bauer, Liebherr and Junttan.
There were two very important hires, as well. One was Richter, who worked in several managerial and technical capacities at Bauer in both Europe and Canada prior to joining Aecon Foundations. He was also business unit leader at Laing O'Rourke Infrastructure, UK for three years.
Richter says one of the things he brings to Aecon Foundations is a strong drive for innovation.
"Before I joined Aecon, I was at a very innovative company where it was all about looking outside the box to see what kind of other technologies we can use in order to improve the foundation industry," he said. "I believe that if you're not innovative, if you're not looking ahead at what's coming next and you are sitting still, then you will be overtaken."
According to Richter, the other major hire was Otmar Frohlich, a seasoned manager with decades of experience in deep foundation work.
"We're very lucky to have a very experienced senior superintendent who has worked in more than 17 countries around the world," said Richter. "He was also able to attract a lot of good people to our business."
In the fall of 2013, the revitalized company was awarded a large contract to complete foundation work for K+S Potash Canada's Legacy Mine located about 70 kilometres northeast of Regina, Sask. Since then, Aecon Foundations hasn't looked back.
Deep foundation solutions
Today, the company offers a wide range of deep foundation solutions, including the following pile systems:
Driven H-piles, steel tubes
Drilled shafts
Caissons
CFA piles
Bell piles
Screw piles
Aecon Foundations' solutions also include the following shoring systems:
Secant pile walls
Sheet piles
Cut-off walls
Timber lagging walls
Tie-back anchors
The company is currently assisting with a new phase of construction of the Eglinton-Crosstown Light Rapid Transit project in Toronto, one of the largest construction projects in Ontario's history. Aecon Foundations is helping build four of the 15 new underground stations being constructed on the LRT line.
According to Richter, Bauer and Liebherr drilling rigs are being used to install secant pile walls consisting of reinforced concrete piles 1.2 metres in diameter and up to 40m in depth at the four stations. The company's work on the Eglinton-Crosstown LRT project began in December 2016 and it is expected to continue until late 2018.
During the planning stages of the project, Aecon Foundations performed 3-D modelling using GPS and building information modeling (BIM) systems, which Richter says has proven extremely useful.
"This modeling is very important for what we're doing at Eglinton because there are so many utility lines in the ground," he said. "What we've done is convert the utility drawings into a 3-D model and then overlaid it with our pile drawings."
In addition to its Canadian projects, Aecon Foundations has also started working overseas. It recently was awarded a contract to help build a new terminal at the L.F. Wade International Airport in Bermuda, where it will install close to 800 driven H-piles for the building's foundation.
According to Richter, just getting the equipment on site is something of a challenge. Aecon Foundations is bringing its own pile driving rig to the remote island nation, which is situated about 1,600 kilometres east of Florida in the Atlantic Ocean.
Because there are no docking facilities in the area, a Junttan PM25 pile driving rig has to be transported by boat directly to the site. The equipment arrives by ship and then is transferred to barges, which travel to shore to offload their cargo onto a temporary ramp that's been constructed next to the airport.
"From the logistics standpoint, it's very interesting but also very time-consuming," said Richter. "This whole process takes a week just to offload the ship and bring the materials to the airport."
"We like to manage safety proactively. It's more than just lip service. This is really driven down from the top management to the screws so they understand how important it is to us."
- Lars Richter, Aecon Foundations
Safety first
Richter stresses that safety is Aecon's number one core value.
"Everybody is very dedicated to deliver safety first," he said, and that's reflected in the company's proven safety record and "zero injury" culture.
"We like to manage safety proactively," said Richter. "It's more than just lip service. This is really driven down from the top management to the crews so they understand how important it is to us."
Aecon Foundations has a mobile, experienced workforce that will travel to different parts of the country to take on projects. The company currently employs about 80 people, 60 of whom are working on the Eglinton-Crosstown LRT project.
Aecon, which has been recognized as one of the Best Employers in Canada (as voted by its staff) for the past eight years, strives to offer its people a challenging and engaging work environment every day. An example of this commitment is Aecon University, the company's professional development program that Richter says is popular among employees.
"Aecon takes great pride in executive education but also project management education," he said. "That's extremely important. People like to see that there is some advancement in their career."
Richter says these are exciting times for infrastructure development in Canada, and he feels Aecon Foundations is very well positioned to benefit from the growing number of deep foundation opportunities this presents.
"There are unbelievable opportunities being offered by the infrastructure market right now," he said, citing the ongoing and planned LRT developments not just in Toronto but also in other Canadian cities like Montreal, Ottawa and Calgary as an example. "It really is quite unprecedented."